Hotline: 0902 360 448 / 0909 535 348

Working With an Interlining
An interlining can come in handy for many reasons on nicer, higher end garments. It can effect opacity of the fashion fabric, add support to a light weight fabric, or - as in this case - add an extra layer of warmth.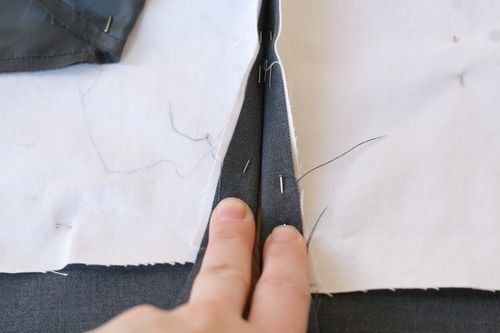 Heavy weight cotton (such as cotton sateen) is the most wind-resistant material of natural fibers. I had cotton twill so I decided to add the layer to slow wind cutting through the layers of my coat. I washed and dried the fabric on high/hot settings to shrink it as much as possible before using it with wool. The interlining pieces are cut the same as the fashion fabric pieces - except they are cut without the hem to reduce bulk. Before you begin sewing the fashion fabric, align the interlining to the wrong side of each piece and baste or pin baste i place . Treat the two layers as 1 when you sew.
Before seaming the pieces with the interlining, fold the seam allowance to the wrong side. When you make that fold, the edge of interlining will likely shift past the edge of the fashion fabric. The interlining fabric serves as a backing to the fashion fabric and needs to be slightly smaller so it does not bubble/pull/pucker. Pin the two layers in place while the seam allowance is folded toward the back. Trim the interlining to match the cut edge of the fashion fabric and then sew the seam like usual.